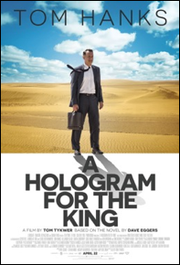 On April 26, 2016, our Art in Film group reviewed A Hologram for the King.  Cultures collide when an American businessman (Tom Hanks) is sent to Saudi Arabia to close what he hopes will be the deal of a lifetime. Baffled by local customs and stymied by an opaque bureaucracy, he eventually finds his footing with the help of a wise-cracking taxi driver (Alexander Black) and a beautiful Saudi doctor (Sarita Choudhury).
Released April 22, 2016.  English.  Written & Directed by Tom Tykwer.  Cast includes Tom Hanks (as Alan Clay); Alexander Black (as Yousef); and Sarita Choudhury (as Zahra).
Reviewers:
Jonathan Kahn (85%); Glenn Lippman (90%, Discussion/Review Leader); Judy Moskowitz (75%); Bebe Nagel (95%); Elinor Steffensen (90%) and Rose (75%).
Movie Review Comments:
Interesting film.  Had a way of taking the audience on a vacation sort of trip, allowing one to escape into a part of the world so very different from life in the United States.
Tom Hanks starred in this film.  In one sense it seemed unusual a part for him.  He is not known for an emotional and sexy role.  However we think it was a good role for Hanks in that the culture in Saudi Arabia seems a bit distant and stoic; and Hanks seemed to depict that way about him very well.
Length of film was 90 minutes.  For some of our reviewers, the length was just right.  For others, the film dragged on building Hanks/Choudhury relationship then the film abruptly ended without providing more on movie's original objective.
Parts that could have been eliminated or embellished.   (a) reduction in overslept scenes; (b) removed surgery details; (c) eliminated mountain visit with Yousef; (d) added more about the new job.
Metaphors.  Untouched seemed to explain Hanks' part as it reflected general emotional response of Saudi Arabia.  Endless time as it related to continuous delays, etc.  Swimming scene represents a new beginning.
Memorable Scenes.  (a) expression of tenderness in love scene; (b) Schwinn & Chinese parallel;(  (c) CIA joke; (d) Wolf scene; and (e) Father/Son trip's message.
Learn Anything.  (a) Danish people like to party; (b) position of women in Saudi Arabia; (c) Saudi Arabia's dislike for USA in the number of delays; and (d) Mecca.
Audience.  Mature, intelligent and adult.
Our reviewers found it odd that this film's timing and emotionless theme comes so close in time to pending release of the controversy of 9/11 report and Saudi Arabia's secret 28 pages.  Was the timing of this film deliberate?  Or just a coincidence?